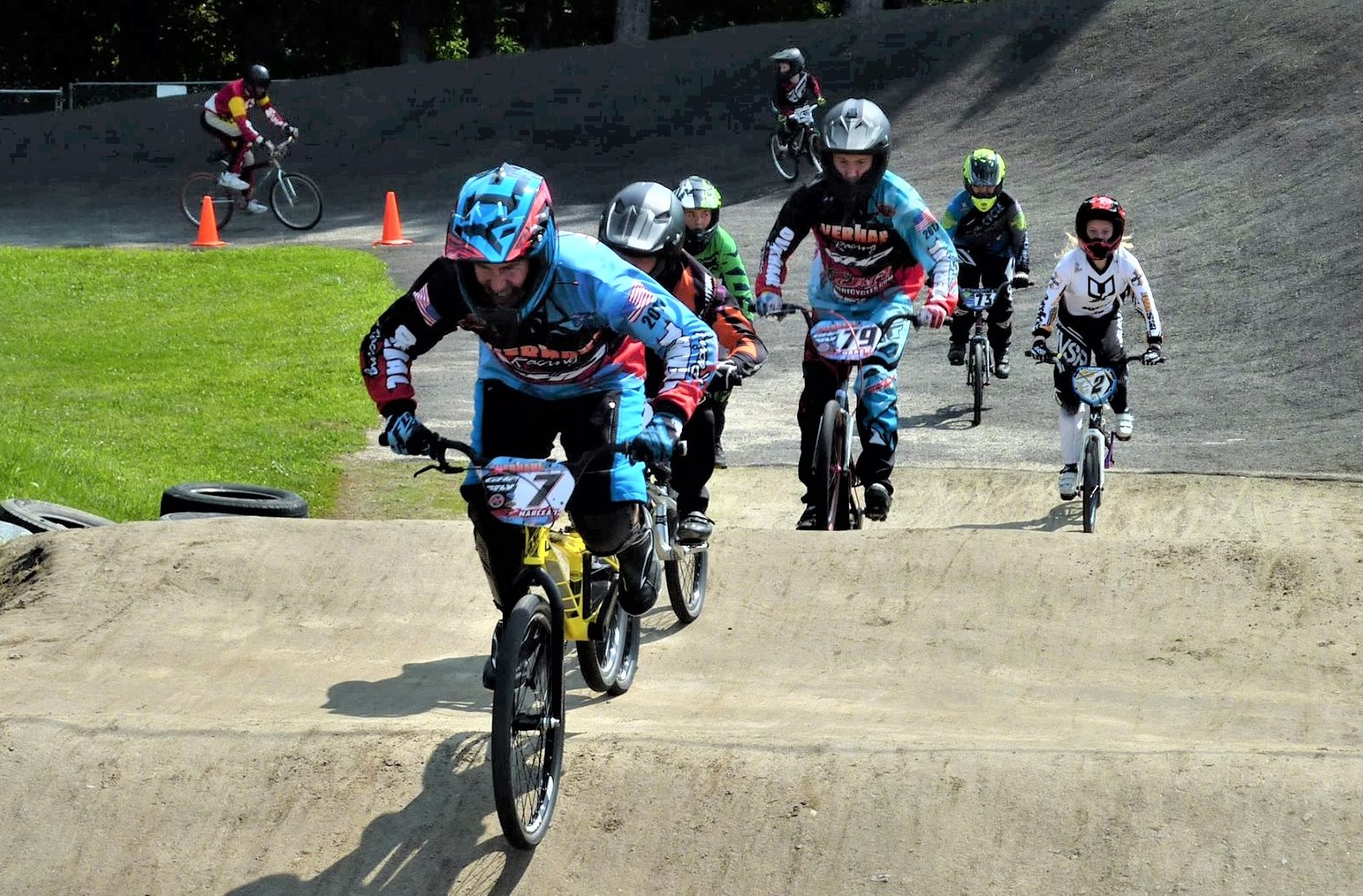 Like us for pictures, updates on points, events, reminders and MORE!


TRACK NEWS

• The 2018 season has begun!!! Check out the full schedule here.

• The 2018 Race For Life at Whip City is less than two weeks away! Remember that we will not be racing on Friday night, May 25th. Instead we will be racing on Saturday, May 26th at NOON. Registration is from 9 to 11 AM. It's $20 per rider per class to race and

double points

are on the line!!

Read about the mission behind the Race For Life. Proceeds from this race benefit the Leukemia and Lymphoma Society. Whip City BMX has always been a great supporter of this cause and as such has ranked among the top tracks in the nation in total fundraising for many years. We hope that you'll contribute to our efforts. You can track your donations using this sheet. Donation envelopes are available at the track during registration.

To further promote donations, we will be holding a raffle during the race with many great prizes. The grand prize is a complete DK 20" bicycle donated by BALISE AUTO!!

THERE'S MORE: The

indvidual

rider who raises the most amount of money for the Race For Life will earn FREE entry (one class) at all Whip City BMX single points events for the remainder of 2018!



Finally, this is one event where a USA BMX membership is not required! If you or someone you know has

never

held a membership you can try our sport for just $20. Proper bike and helmet required.

• Make sure to bring your USA BMX membership card each week when you sign up for racing!! As an added measure, take a picture of your card with your phone, save a photocopy in your glove box, get an extra copy using your account on usabmx.com, or all of the above!

• Be sure to share our press release which was published in several regional newspapers. Spread the word and get your friends and family to try out the great sport of BMX racing!!



• Congratulations to our 2017 track champions! Here are the final points standings.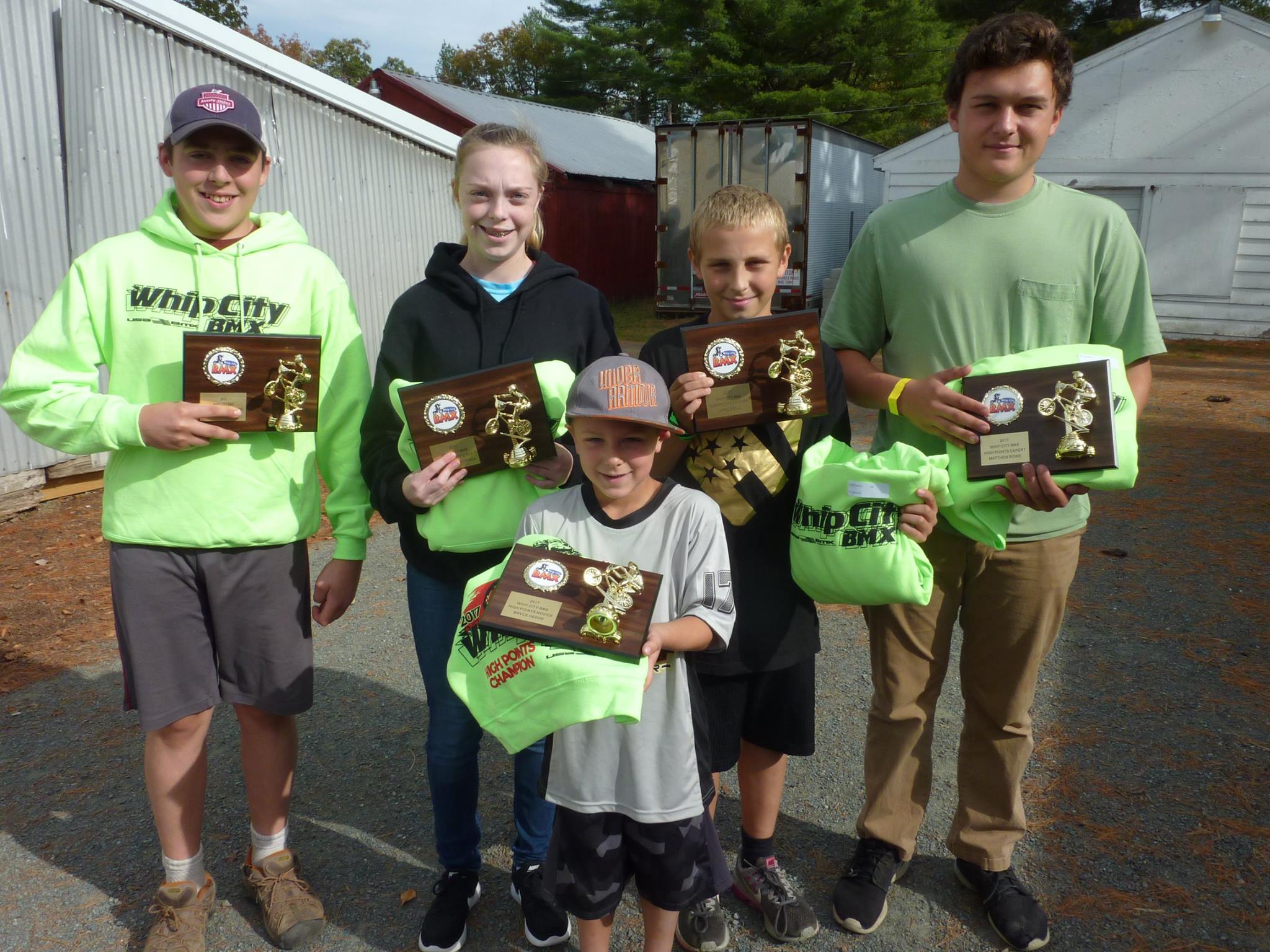 • Important reminder about plate numbers: A rider's current earned or sanction issued number must appear on that rider's number plate during all competition. Examples of earned numbers include district, state, national age group, national, gold cup, race of champions, pro numbers, etc. – these numbers change every year and represent each rider's hard work at earning their ranking. On the other hand, your sanction issued number is generally the last three digits of your serial number. (See pages 17-18 of the USA BMX rulebook for additional details). If you are not running your sanction issued number, you need to update your plate each year with an earned number - running an outdated earned number is not permissible. We will be enforcing this rule at all Whip City events. If you need to update your plate, please do so before your next event; plates and numbers are commonly available from our local on site bike shop vendor on Friday evenings. Another alternative is to attach a "pie plate" to your bike with written numbers if you are not able to update your plate before the next race. If you would like to check your current district ranking, please

visit the USA BMX website

.




• It is very important to bring the paper receipt you received for your new or renewed license until you receive your permanent card - the combination of the 8 digit (all numeric) serial number AS WELL AS your 4 digit validation code is especially important when you travel to other tracks to race. You will need to present this receipt at any USA BMX track to register. TIP: Take a copy of your paper receipt and put it with your race equipment, or in all of your vehicle consoles, etc. Be creative to make sure that you are never without it!



• Please visit and LIKE our Facebook page for updates on Whip City Track points!


• Looking for a place to stay close to the track. Look no further!
Holiday Inn Express & Suites
39 Southampton Rd. Westfield, Ma 01085
Rate: $119.00 plus tax for standard king or queen, and $129.00 plus tax for suite. MENTION WHIP CITY BMX IN ORDER TO RECEIVE GROUP RATE!!!!!! Free full hot continental breakfast.
Please call 413.564.6900 to book reservations, and remember to mention
Whip City BMX
in order to receive group rate!
Holiday Inn Express & Suites
Westfield, MA
(413-564-6900)
Save time at registration! Download a page filled with four separate sign-up forms; complete the forms at home (either on your computer or by hand), cut them out, and have them ready to go when you get to registration! Microsoft Word Template or PDF Template
---
If we cancel racing before 4pm (for Friday events) or before 8am (for Saturday events), we will post it on Facebook as well as on this webpage. This doesn't guarantee that we won't have to cancel just before an event or during the event due to the weather, but we will do our best to post any foreseen cancellations here.
Racing is on for SATURDAY 5-26-2018. PLEASE CHECK OUR FACEBOOK PAGE FOR ANY FURTHER DETAILS.
Please note:
**Alcoholic beverages are not allowed at any Whip City BMX event.**

Charcoal grills, open fires, camp fires, etc. are prohibited on fairgrounds property at Whip City BMX.

All dogs must be leashed and kept on the "Whip City side" of the fairgrounds (not beyond the main road leading to the registration area).
---
Whip City BMX is a USA BMX sanctioned bicycle motocross track, located at the Westfield Fairgrounds in Westfield, Massachusetts.